Fly Malaysia Airlines from your hometown to Tawau via Kota Kinabalu or Kuala Lumpur. You will be greeted in Tawau by SMART Divers Resort to bus you to Semporna (1 hour). From there a speed boat zips you out to Mabul island (another 45 minutes).
TRANSFERRING FLIGHTS IN KUALA LUMPUR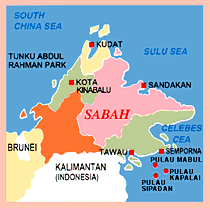 The Kuala Lumpur airport is one of the best organised in the world. For travelling straight through, you should be issued with boarding passes from where you are, one to Kuala Lumpur and one for the next flight to Kota Kinabalu or Tawau. Make sure your luggage is checked all the way to Kota Kinabalu (BKI) or Tawau (TWU).
LENGTH OF VISIT
Most divers are happy with one to two weeks of diving around Sipadan/Mabul/Kapalai Islands.
ACCOMMODATION
Accommodation is made from native materials of Borneo on Twin Share Basis, unless the Single Supplement is paid and categorized into standalone chalet – detached (built up size 19ft x 16ft) and standard – semi-detached (built up size 14ft x 12ft).
SMART has 22 standalone chalets (16 units twin-bed and 6 units double bed) built in detached type with own balcony, selected satelite TV channels, mini bar and in-room safety box and 16 standard chalets (14 units twin-bed and 2 units double bed) built in semi-detached type with sharing balcony.
All chalets equiped with mosquito screen, with attached private shower/toilet, hot shower facilities and the comfort of air-conditioning, which are available for 24 hours and free wifi internet access.
FRESH WATER
There's plenty of fresh water and no restrictions for its use. A huge freshwater bin is available for cameras and several rinse bins for dive gear.
EQUATORIAL
Equatorial with fairly uniform temperatures ranging from 27°C – 32°C. Humidity is high (85-95%).
CLOTHING
Very casual. Light cotton clothing, t-shirts and shorts. There is no dress restrictions on the island.
CURRENCY
The Malaysian Ringgit (RM).
HEALTH
While still listed as a malaria-infected country, most literature states that malaria has been widely eradicated from many parts of Malaysia. Discuss your needs with an experienced travel doctor.Warning: divers should never take Lariam because of common side-effects including nausea and vertigo. Discuss alternatives with your doctor. Mosquitos are not a big problem on Mabul and the rooms are installed with fly screens windows. Sand flies are not a problem on Mabul, too.
ELECTRICITY
220v, 50 cycles using a plug with three rectangular prongs similar to British plugs. Power 24 hours a day.
TIME ZONE
Mabul is 8 hours ahead of GMT.
SHOPPING
SMART Divers Resort has a small boutique offering t-shirts, sunscreen and postcards.
CREDIT CARDS
VISA and Mastercard accepted.
TIPPING
Once you've experienced the great service at SMART Divers Resort, you'll want to leave something to show your appreciation. If you were happy with the service, then US$5.00 per guest per day would be appropriate. All tips should be placed in the box at reception to be divided equally among all staff. This ensures everyone involved gets something, not just the most visible personnel.
DIVING
Three combination boat dives a day, unlimited house reef diving on Mabul Island with buddy. Water temperatures range from 26癈-31癈. Thermoclines exist, especially on Sipadan, and divers should be prepared with a range of protection. As a minimum, pack a woolly-lined lycra suit and possibly a 3mm one-piece neoprene suit. Visibility averages 15 to 30+ metres around Sipadan and is extremely variable; without warning it can drop to three to six metres. Around Mabul it sometimes no more than 6-7 metres, especially if someone has kicked up the silt.
BOOKING
Please contact your favourite travel agent or to Explore Asia Tours today!